This is Day 11 in a 12 Day series: 12 Days Of Paperless Gifts. If you know someone who could use some help going paperless, or if you deserve to treat yourself, this is the place. If you don't, feel free to ignore this series. Normal DocumentSnap posts will still be coming!
There are some people who are more in the "holiday card" category than the "buy a present" category. You might have received electronic cards back in the day and found them tacky, pop-upy, and ad-filled.
Not anymore. There are some e-cards now that are actually pretty nice, and I've sent them myself.
I usually use Paperless Post, which actually has classy e-cards. If you want to be paperless and not scare or insult your recipients, it is worth checking out.
Click here to check out Paperless Post
[hr]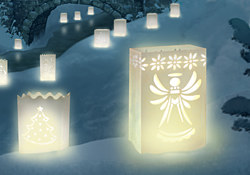 I haven't used it myself, but a number of readers have recommended Jacquie Lawson cards, and I have received them too. Quite nice.